Learn More About DrainCity Plumbers in Toronto
Drain City began as a small partnership of two professionals, who left a well-paid job at a multi-million plumbing business, to create a personalized plumbing service company with fair prices. We worked hard serving clients and fulfilling other business duties from project management, to accounting and cleaning our office.
Today we enjoy a well-earned reputation for unwavering commitment to high-quality work, superior customer service, and approachable budget. Our team of more than 30 service people and administrative staff carries on protecting and maintaining this reputation. As a company, we are constantly going back to school to stay on top of the latest industry trends , and to pass those benefits on to you, our client. We stand behind the work of our technicians, taking responsibility together every step of the project.
You Can Rely On Our Trustworthy Plumbers In Toronto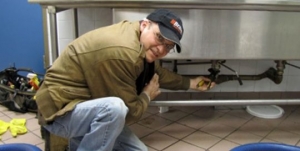 At Drain City Plumbers in Toronto / GTA, return business is the core of our business. Creating a lasting relationship of confidence and trust with a customer starts from the moment you call us. Whether you decide to proceed with our services or not, we are always trying our best to give you the most accurate information and advice. We pride ourselves on complete transparency about the budget and schedule. We offer the best warranties on workmanship as well as manufacturer's warranties on material. That's our commitment to you.
We deeply appreciate the fact that you may consider our plumbing company for your plumbing, drain, water line or waterproofing project. We encourage you to spend some quality time looking at our site, to find out how our company works , and look at the testimonials from some of our loyal clients. But most of all, we hope you'll pick up the phone and call us.
Drain City provides a variety of Toronto plumbing services for your home and business. Please contact us today to discuss your options and our plumbing services with a licensed plumber in Toronto.
We provide an up-front flat rate to avoid any surprises at the end. We provide only the services you need when you need it. We send superb servicemen, not salesmen.
24 Hours Emergency For Any Toronto Plumbing Contractors Job
All of our plumbing service appointments are scheduled at your convenience. We provide 24 Hour emergency plumbing and basement waterproofing service 7 days a week, even on holidays. Our thoroughly stocked service vehicles are radio dispatched – they will make it to your neighborhood in record time, and do any plumbing job required.
No matter what your plumbing needs may be, you can count on our knowledgeable Toronto plumbers. No job is too big or too small for DrainCity Plumbing. Free estimates are available for all plumbing repair and installation projects as well as commercial installations in Toronto. We have the experience needed to deliver the highest quality service throughout our plumbing service areas in Toronto and the GTA. Our master plumbers assist with plumbing services for both residential and commercial customers and can always respond quickly in an emergency.
Our Toronto plumbing company is pleased to offer you a full range of residential and commercial plumbing services such as: