Wet Basement Waterproofing Toronto
Wet Basement Services Toronto
Wet basement problems can not only bring financial damage but an emotional as well. Plumbers often find that people tend to keep things that are most dear to them – like photo albums, computer hardware, toys, and music instruments – in their basements. Hence, families – adults, and children – spend a lot of time in their basements. They do little to prevent their basements from being wet and moldy. As a result, they have to deal with the problem when it is already there, bringing damage to their health and their belongings.
WHAT CAN YOU DO TO PREVENT THE WET BASEMENT PROBLEM?
Our Toronto plumbing contractors are experienced in new and old plumbing systems and fixtures. With customer satisfaction as our top priority, we offer up to 25 years of warranty on our plumbing and waterproofing projects. We always respect you and your property, leaving your home in a tidy and spotless condition.
We never use freelance plumbers (who get paid more if they sell you more). Our guys are full-time employees who have more than 5 years experience when starting to work for us, and also get thorough "in-house" training. You can always rest at ease that a qualified professional is working on your home or business when you call DrainCity.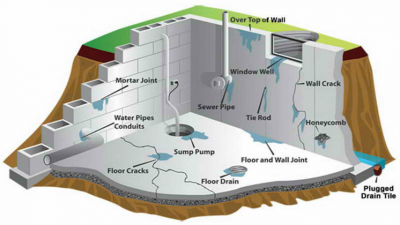 Second, before you basement becomes wet, check the flow of water around your house's foundation during the rainy period. The first sign of poor drainage, and hence the higher risk of a wet basement problem, is when you see puddles accumulating around the foundation. The water from outside can eventually seep through the foundation and create cracks that cause problems. That is when you know you have to take measures to prevent your basement from being wet.
Basement waterproofing contractors in Toronto will be able to quickly determine a basement problem associated with your area and your particular house. The wet basement contractors would find out why your basement is wet, and advise you on the best prevention measures, basement waterproofing, installing rain gutters and downspouts, ensuring you have a proper exterior drainage system.
WHAT CAN YOU DO WHEN YOUR BASEMENT IS ALREADY WET?
Looking for signs is a big preventative measure to ensuring little to no foundation damage. These include:
wet stains present on your basement walls or floors
your basement smells or feels wet
you have noticed mold in some parts of your basement (usually the corners), or signs of spalling (when basement surfaces peel off or seem flaky)
Make sure you take some measures to prevent further escalation of the wet basement problem, such as:
Remove all valuables
Make sure your children do not spend time in the basement. Mold can cause such problems in health, like asthma and allergies
and finally call a wet basement specialist, who will determine how and why your basement became wet
Since your basement supports your whole house, you should never try to fix the problem yourself when it becomes wet; use professional basement waterproofing contractors who deal with the wet basement problem on a regular basis, and who will make sure to preserve the structural stability of your basement. This will prevent the escalation of a wet basement problem and the possible damage to your house's structure, and will also help make sure that insurance covers your wet basement incident.
Drain City wet basement contractors have proven expertise in turning your basement into a dry, healthy and functional living space with affordable cost. Please give us a call, and our wet basement contractors will determine why your basement is wet, free of charge.
24 Hours Emergency For Any Toronto Plumbing Contractors Job
All of our plumbing service appointments are scheduled at your convenience. We provide 24 Hour emergency plumbing and basement waterproofing service 7 days a week, even on holidays. Our thoroughly stocked service vehicles are radio dispatched – they will make it to your neighborhood in record time, and do any plumbing job required.
No matter what your plumbing needs may be, you can count on our knowledgeable Toronto plumbers. No job is too big or too small for DrainCity Plumbing. Free estimates are available for all plumbing repair and installation projects as well as commercial installations in Toronto. We have the experience needed to deliver the highest quality service throughout our plumbing service areas in Toronto and the GTA. Our master plumbers assist with plumbing services for both residential and commercial customers and can always respond quickly in an emergency.
Our Toronto plumbing company is pleased to offer you a full range of residential and commercial plumbing services such as: