CCTV Video Drain Inspection Service
CCTV VIDEO DRAIN INSPECTION IN TORONTO
When you have a drainage problem at your home, we can insert a CCTV camera into the pipes to track it down and determine the best solution to remove it. Not only does this allow our Toronto plumbers to see what the problem is, but we can then give you a very accurate estimate of what it will cost to carry out any repairs. CCTV video inspection is also useful in identifying issues in a drainage system before they become severe, or in a home that you may be thinking of purchasing. At times discoloured water or low pressure can be the result of a damaged pipe somewhere along your property.
Drain City identifies the problem in a nondestructive manner and ensures you can repair it before it gets worse so using our camera inspection technology can save you time and money. When you've found a new home that you wish to purchase, it is a good idea to have peace of mind in knowing everything, including the things you can't see, such as your underground pipe work, is in good condition. All of our video camera inspections can be recorded on DVD for you, for your future reference.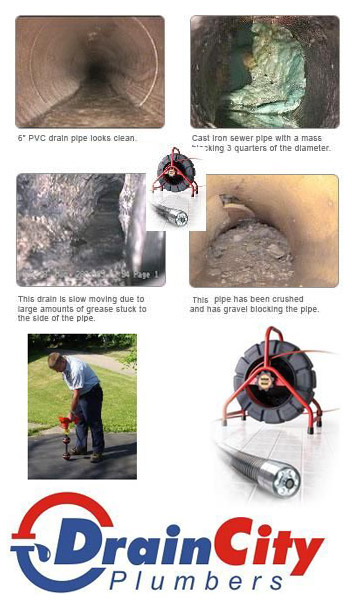 CCTV VIDEO INSPECTION SERVICES:
Sewer Camera Inspection
Sewer Pipe Inspection
Video Pipe Inspection
Drain Camera Inspection
CCTV Pipe Inspection
Pipeline Inspection
Sewer Line Location
Main Drain Location
Sewer Inspection Cameras
Plumbing Camera Inspection
Pipeline Inspection
Plumbing Sewer Drain Service
24 Hours Emergency For Any Toronto Plumbing Contractors Job
All of our plumbing service appointments are scheduled at your convenience. We provide 24 Hour emergency plumbing and basement waterproofing service 7 days a week, even on holidays. Our thoroughly stocked service vehicles are radio dispatched – they will make it to your neighborhood in record time, and do any plumbing job required.
No matter what your plumbing needs may be, you can count on our knowledgeable Toronto plumbers. No job is too big or too small for DrainCity Plumbing. Free estimates are available for all plumbing repair and installation projects as well as commercial installations in Toronto. We have the experience needed to deliver the highest quality service throughout our plumbing service areas in Toronto and the GTA. Our master plumbers assist with plumbing services for both residential and commercial customers and can always respond quickly in an emergency.
Our Toronto plumbing company is pleased to offer you a full range of residential and commercial plumbing services such as: