Catch Basin Cleaning Service In Toronto
CATCH BASIN CLEANING TORONTO
A catch basin also called a storm drain, is usually built along the curb in the gutter on the edge of the road, allowing water runoff. It is part of a sewer system.
The catch basin does just what its name implies; it catches waste and stops it from entering drainpipes. It usually has a grate at street level catching debris before the water enters the catch basin. The grate prevents trash and other materials from entering the drain. Catch basin cleaning is a typical type maintenance for a catch basin. Catch basin cleaning involves removing waste and sediments collected in the catch basin sump and should be carried out by professional companies equipped and knowledgeable about catch basin cleaning. Catch basins have a vessel under the outlet pipe which captures solids that can flow into connecting pipes as the basin fills with sediment. Ultimately, solids flow into receiving waters such as rivers, creeks, and streams. Therefore, catch basins have to be cleaned regularly.
CATCH BASIN CLEANING NECESSITY
Maintaining and cleaning a catch basin is important to stop storm sewer blockages. Catch basin cleaning reduces the number of contaminants going into the storm sewer, which could eventually discharge into local waterways. Clogged catch basins might also cause water to pool on streets and in open areas like parking lots. It is imperative that catch basins be occasionally cleaned to maintain their ability to ensnare residue and subsequently their ability to prevent flooding.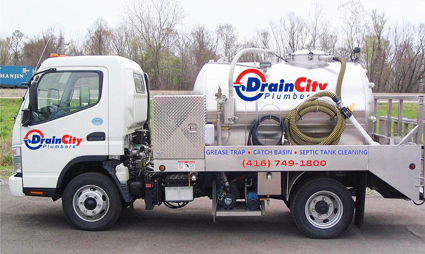 Catch basin cleaning can be difficult if the weather does not permit, for example, snow. At least once a year, preferably after fall, catch basins should be inspected to determine if they need to be cleaned. If it is noted during the annual inspection that the depth of the residue is equal to, or more than one-third the depth from the invert or the lowest pipe, or opening into the catch basin, it should be cleaned more frequently than once a year. Catch basins can be cleaned with specialized equipment, which includes a vacuum pump, or can be cleaned manually. Waste that is purged from the catch basin is disposed of in a standard landfill.
When removed from catch basins, decaying debris, highly polluted water and sediment has its benefits by reducing the foul stench that sometimes can be located to the drain. Organic material can be offensive, and the unwanted waste and water from the catch basin should be correctly disposed of. Some waste removed from catch basins would be classified as hazardous.
A catch basin in the yard also helps in private residences by controlling leaves, garden waste and garbage, restraining it from entering the drainage system, catch basins also help with removal of rain water. Having a catch basin on your property makes you responsible for cleaning it to remove that garden waste, garbage and especially in the fall the leaves, which could cause a major problem by plugging the drain and causing flooding if not removed. A qualified catch basin cleaning contractor can eliminate waste in your yard using catch basin cleaning, and the disposal of waste and debris.
Get Your Detailed Quote

CATCH BASIN SPECIALTY:
Commercial Catch Basin Cleaning
Catch Basin Maintenance
Catch Basin Cleaning Company
Catch Basin Services
Catch Basin Inspection
Catch Basin Cleaning Truck
Drainage Catch Basins
Catch Basin Cleaners
Catch Basin Clean
Water Pumping
Catch Basin Pumping
Cleaning Catch Basin
Catch Basin Problems
Home Catch Basin Cleaning
Pumping a Catch Basin
Vacuum Trucks Services
Waste Water Removal
Storm Sewer Catch Basins
Commercial Catch Basin
Residential Catch Basin
Industrial Catch Basin
Grease Catch Basin
Drain Catch Basin
Pump Truck Services
24 Hours Emergency For Any Toronto Plumbing Contractors Job
All of our plumbing service appointments are scheduled at your convenience. We provide 24 Hour emergency plumbing and basement waterproofing service 7 days a week, even on holidays. Our thoroughly stocked service vehicles are radio dispatched – they will make it to your neighborhood in record time, and do any plumbing job required.
No matter what your plumbing needs may be, you can count on our knowledgeable Toronto plumbers. No job is too big or too small for DrainCity Plumbing. Free estimates are available for all plumbing repair and installation projects as well as commercial installations in Toronto. We have the experience needed to deliver the highest quality service throughout our plumbing service areas in Toronto and the GTA. Our master plumbers assist with plumbing services for both residential and commercial customers and can always respond quickly in an emergency.
Our Toronto plumbing company is pleased to offer you a full range of residential and commercial plumbing services such as: