LiquiSmoke Drain Smoke Test For Drain Repair
Leaky Drain Smoke Test in Toronto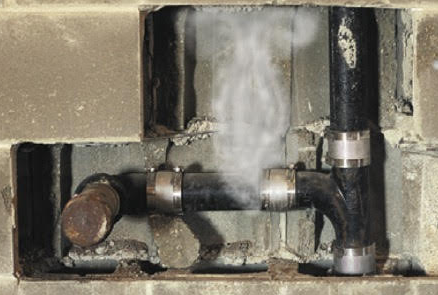 Our LiquiSmoke was put through a series of tests performed by respected laboratories. These tests resulted in showing that not only is our LiquiSmoke safe, but it will not stain or leave a residue when used to find a leaking drain pipe under house. This gives you peace of mind knowing you're working with a non-toxic smoke, and you don't need to be concerned with it leaving a mess in your home.
Our drain smoke test forces non-toxic artificially created smoke through waste and drain pipes under a slight pressure to find leaks. Plumes of the nontoxic drain smoke form around the defects that cause drain pipe leaks. This test can be performed when the plumbing is brand new, but more often it is used to find sewer gas leaks that may plague a building or an area. Any sign of smoke escaping can be considered a possible site for sewer gas to escape. Sewer gas typically has a rotten egg smell and can contain methane gas, which is explosive, or hydrogen sulphide gas, which is deadly.
A drain smoke test is particularly useful in places, such as ventilated sanitary sewer systems, where completely sealing the system is not practical. The test can also be performed in a home to safely and quickly find and repair leaking drain pipes.
CLEANING DRAINS: IT'S OUR JOB
If you are looking for experienced Toronto plumbers to help solve any drain problems, or any other kind of plumbing problems, don't hesitate to call Drain City at 416-749-1800, to get the top Toronto plumbers in town working for you. We guarantee to come down to your place and give you a professional drain cleaning, with the utmost professionalism and skill, whether you're located in Downtown Toronto, Etobicoke, North York, Scarborough or neighbouring areas such as Hamilton, Oakville, Peel Region, Pickering, Oshawa, Richmond Hill, or York Region.
24 Hours Emergency For Any Toronto Plumbing Contractors Job
All of our plumbing service appointments are scheduled at your convenience. We provide 24 Hour emergency plumbing and basement waterproofing service 7 days a week, even on holidays. Our thoroughly stocked service vehicles are radio dispatched – they will make it to your neighborhood in record time, and do any plumbing job required.
No matter what your plumbing needs may be, you can count on our knowledgeable Toronto plumbers. No job is too big or too small for DrainCity Plumbing. Free estimates are available for all plumbing repair and installation projects as well as commercial installations in Toronto. We have the experience needed to deliver the highest quality service throughout our plumbing service areas in Toronto and the GTA. Our master plumbers assist with plumbing services for both residential and commercial customers and can always respond quickly in an emergency.
Our Toronto plumbing company is pleased to offer you a full range of residential and commercial plumbing services such as: