Sump Pump Installation Services Toronto
Sump Pump Replacement Services Toronto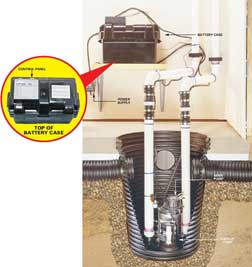 A sump pump is used for drainage collected water or to remove water that has accumulated in a pit, commonly found in a home's basement. The water may enter via the perimeter drains of a basement waterproofing system, funnelling into the pit or because of rain or natural ground water, if the basement is below the water table level.
Sump pumps are used where basement flooding happens regularly and to ameliorate dampness where the water table is above the foundation of a home. Sump pumps send water away from a house to any place where it is no longer problematic, such as a municipal storm drain or a dry well.
Pumps may be connected to the sanitary sewer in older properties but now, this practice may be against the plumbing code or city bylaws because it can overwhelm the municipal sewage treatment system.
Usually hardwired into a home's electrical system, sump pumps may have a battery backup. The home's pressurized water supply powers some pumps, eliminating the need for electricity. Since a sump pit may overflow if not constantly pumped, a backup system is important for cases when the main power is out for prolonged periods of time.
SUMP PUMP INSTALLATION SERVICE
Our specialists at DrainCity Plumbers have up to date knowledge and skill regarding all facets of sump pump installation and operation. We can give you the proper guidance and advise you on the type of sump pump that would best suit your property. Furthermore we will install your sump pump with the care and precision you'd expect from some of the most experienced plumbers in the Greater Toronto Area and back up our work with a 20 year warranty.
To book a sump pump installation with one of our reliable plumbers call us today 416-749-1800. We will happily service you in any region in and around Toronto, with the highest grade of sump pump installation work.
SUMP PUMP SPECIALTY:
Basement Sump Pump Installation
Sewage Sump Pump Installation
Sewer Sump Pump Installation
Drainage Sump Pump Installation
Drain Sump pump Installation
Sanitary Sump pump Installation
Weeping Tile Sump Pump Installation
Sump Pump Pit Installation
Home Sump Pump Replacement
Battery Backup
24 Hours Emergency For Any Toronto Plumbing Contractors Job
Our Toronto plumbing company is pleased to offer you a full range of residential and commercial plumbing services such as: