Kitchen Sink Installation In Toronto
KITCHEN SINK REPAIR & REPLACEMENT IN TORONTO
DrainCity Inc. Toronto Plumbers will professionally install all types of kitchen sinks and bathroom sinks. When you call us to have any kind of sink installation done, the services we provide include: Taking away your old sink and properly disposing of it. Professionally installing your new sink, which includes connecting the drains to existing plumbing.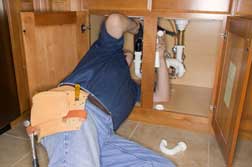 Connecting the faucet to the water supply, and providing a solid warranty for the work we've done. DrainCity Inc. Toronto Plumbers will ensure that your sink installation is of the highest quality and that the job is done right, the first time. We will also install your faucets, garbage removal unit, and any water filters you may have, at the same time, so the project will be completed to your satisfaction. Our plumbers have significant experience and will install a wide range of sinks in nearly any location you request. Here are just some of the sink installation options and repairs we can do for you.
For any kitchen sink repair emergency or installation, we would be glad to serve you, so give our office a call anytime at 416-749-1800 to book one of Toronto's top plumbers. We guarantee to come down to your place and get your sink up and running in no time regardless of whether you're located in Downtown Toronto, Etobicoke, North York, Scarborough or neighbouring areas such as Mississauga, Markham, Pickering, or Oshawa. We can get out to your home at a time that works for you, even on evenings or weekends, and our skilled technicians will have your sinks running like new, at a price that beats our competition by at least 10%.
OUR KITCHEN SINK INSTALL HELP:
New Sink Installation
Kitchen Sink Installation
Bathroom Sink Installation
Laundry Sink Installation
Toilet Sink Installation
Bar Ssink Installation
Commercial Sink Installation
Sink Drain Installation
Sink Drain Repair
Sink Trap Installation
Sink Drain Leaks Repair
24 Hours Emergency For Any Toronto Plumbing Contractors Job
All of our plumbing service appointments are scheduled at your convenience. We provide 24 Hour emergency plumbing and basement waterproofing service 7 days a week, even on holidays. Our thoroughly stocked service vehicles are radio dispatched – they will make it to your neighborhood in record time, and do any plumbing job required.
No matter what your plumbing needs may be, you can count on our knowledgeable Toronto plumbers. No job is too big or too small for DrainCity Plumbing. Free estimates are available for all plumbing repair and installation projects as well as commercial installations in Toronto. We have the experience needed to deliver the highest quality service throughout our plumbing service areas in Toronto and the GTA. Our master plumbers assist with plumbing services for both residential and commercial customers and can always respond quickly in an emergency.
Our Toronto plumbing company is pleased to offer you a full range of residential and commercial plumbing services such as: