Bathtub Shower Installation Toronto
PROFERSSIONAL BATHTUB SHOWER INSTALLATION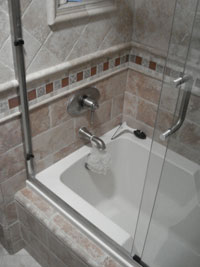 We will happily provide any installation or repair service relating to your bathtub or shower. Whether you have a shower or bathtub faucet that isn't running properly and needs to be repaired, or you have some remodeling planned, our experienced and courteous plumbers will come at a convenient time to give you a free estimate on any bathtub and shower installation and do to work promptly and professionally. Your bathtub or shower should be a place of great comfort and relaxation after a long, busy day, and our plumbers are experts at ensuring that your shower and bathtub are in perfect working order for you to enjoy. Our comprehensive services include fixing and installing a long list of bathtub and shower fixtures including:
Bathroom Plumbing
Shower Installation
Shower Drain Leak Repair
Bathtub Drain Replacement
Bathtub Plumbing Repair
Bathtub Drain Repair
Bathtub Installation
Fix Leaking Bathtub
BATHTUB SHOWER REPAIR SERVICE
No job is too big or small for us; we will arrive at your location in a timely manner, and install any other bathtub and shower, anywhere you require. At Drain City, our Toronto Plumbers have the highest standards of workmanship and skill, so you can sleep well knowing that your bathtub shower installation job we did is professional, and will last the longest time possible.
Pick up the phone and give us a call anytime of the day at 416-749-1800 to get the top plumbers in Toronto working for you. Even if you don't reside in the city we will gladly come to your service in Toronto, Aurora, Ajax, Burlington, Brampton, Bolton, East York, Etobicoke, Markham, Milton, Mississauga, Newmarket, North York, Oakville, Orangeville, Oshawa, Port Credit Richmond Hill, Scarborough, or Woodbridge.
24 Hours Emergency For Any Toronto Plumbing Contractors Job
All of our plumbing service appointments are scheduled at your convenience. We provide 24 Hour emergency plumbing and basement waterproofing service 7 days a week, even on holidays. Our thoroughly stocked service vehicles are radio dispatched – they will make it to your neighborhood in record time, and do any plumbing job required.
No matter what your plumbing needs may be, you can count on our knowledgeable Toronto plumbers. No job is too big or too small for DrainCity Plumbing. Free estimates are available for all plumbing repair and installation projects as well as commercial installations in Toronto. We have the experience needed to deliver the highest quality service throughout our plumbing service areas in Toronto and the GTA. Our master plumbers assist with plumbing services for both residential and commercial customers and can always respond quickly in an emergency.
Our Toronto plumbing company is pleased to offer you a full range of residential and commercial plumbing services such as: