Commercial Grease Traps Toronto
If you need a commercial grease trap interceptor installed, repaired, or just cleaned out, we here at Drain City can look after these jobs with the utmost skill and professionalism. Commercial grease trapping systems are very important for preventing pipe damage within your property and also protecting the environment and waterways from being polluted with contaminants. Our commercial grease traps contractors are dedicated to providing any service that you require regarding grease traps, with a focus on exceptional customer service and satisfaction. We'll ensure that our commercial grease traps installation is of the correct size and specifications to meet your requirements. All of our commercial grease trap installation contractors have significant experience in installing and maintaining many types of grease traps, so you know that you're getting the best service possible.
Give us a phone call at 416-749-1800 to get the commercial grease trap contractors working for you. Regardless of where you reside in the GTA, we'll arrive promptly and quote you the lowest price costs you can find in Toronto and the surrounding areas. We can get out to your restaurant at a time that works for you, whether it be days, evenings, or weekends. Our skilled commercial grease trap contractors will have your grease traps installed, repaired, or cleaned for your restaurant, at a price that beats our competition by at least 10%!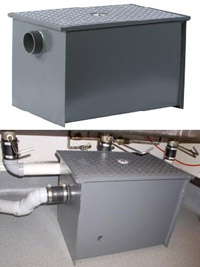 GREASE TRAP INSTALLATION SPECIALTY:
Restaurant Grease Trap Installation
Residential Grease Trap Installation
Commercial Grease Trap Installation
Industrial Grease Trap Installation
Kitchen Grease Trap Replacement
Plumbing Grease Trap
Restaurant Plastic Grease Trap
Grease Trap Design
Grease Trap Repair
Grease Trap Pumping
Grease Trap Interceptor Cleaning
Grease Trap Leaking
Grease Trap Block
Grease Trap Blockage
Grease Trap Clog
Grease Trap Contractors
Grease Interceptor Installation
Grease Trap Sizing
Grease Trap Servicing
Grease Trap Cleaners
Grease Trap Maintenance
24 Hours Emergency For Any Toronto Plumbing Contractors Job
All of our plumbing service appointments are scheduled at your convenience. We provide 24 Hour emergency plumbing and basement waterproofing service 7 days a week, even on holidays. Our thoroughly stocked service vehicles are radio dispatched – they will make it to your neighborhood in record time, and do any plumbing job required.
No matter what your plumbing needs may be, you can count on our knowledgeable Toronto plumbers. No job is too big or too small for DrainCity Plumbing. Free estimates are available for all plumbing repair and installation projects as well as commercial installations in Toronto. We have the experience needed to deliver the highest quality service throughout our plumbing service areas in Toronto and the GTA. Our master plumbers assist with plumbing services for both residential and commercial customers and can always respond quickly in an emergency.
Our Toronto plumbing company is pleased to offer you a full range of residential and commercial plumbing services such as: