Faucet Repair Service In Toronto
BROKEN FAUCET REPAIR
Whether you've got a leaky faucet or one that simply doesn't provide the required pressure, we are your one stop plumbing company that will take care of any and all of your faucet problems on a wide variety of faucet fixtures, including:
OUR FAUCET REPAIR HELP:
faucet repair
leaking faucet
toilet faucet
sink faucet
tub faucets
bathtub faucet
kitchen faucets
bathroom faucet
bar faucets
faucet leak
drain faucet
single faucet
commercial faucets
American Standard faucet
Our plumbers have the experience and skill to ensure your faucets are working in no time and will provide this service at the lowest cost in the Greater Toronto Area (GTA). We have over 20 years of experience doing various residential, commercial, and industrial faucet repairs, so you can rest assured that only the very best results are our standard, and your faucets will be leak free, providing sufficient pressure for you and your family's convenience.
FAUCET REPAIR SPECIALISTS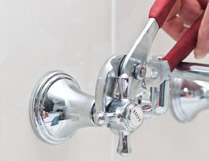 For any of your faucet repairs, big or small, call our office at 416-749-1800 to book an appointment with one of our plumbers to come and take care of any faucet problems you may be having. We will happily travel to Burlington, East York, Etobicoke, Hamilton, Milton, Mississauga, Newmarket, North York, Oakville, Richmond Hill, Scarborough, Thornhill, Toronto, Woodbridge, and York to have your faucet fixed as soon as possible.
24 Hours Emergency For Any Toronto Plumbing Contractors Job
All of our plumbing service appointments are scheduled at your convenience. We provide 24 Hour emergency plumbing and basement waterproofing service 7 days a week, even on holidays. Our thoroughly stocked service vehicles are radio dispatched – they will make it to your neighborhood in record time, and do any plumbing job required.
No matter what your plumbing needs may be, you can count on our knowledgeable Toronto plumbers. No job is too big or too small for DrainCity Plumbing. Free estimates are available for all plumbing repair and installation projects as well as commercial installations in Toronto. We have the experience needed to deliver the highest quality service throughout our plumbing service areas in Toronto and the GTA. Our master plumbers assist with plumbing services for both residential and commercial customers and can always respond quickly in an emergency.
Our Toronto plumbing company is pleased to offer you a full range of residential and commercial plumbing services such as: