Trenchless Pipe Bursting Repair Service
TRENCHLESS PIPE REPLACEMENT SERVICE TORONTO
Trenchless pipe repair and replacement takes less time than older methods and costs less than traditional excavation and restoration of landscaping. DrainCity Plumbers provide a combination of skilled and dedicated technicians, specialized equipment, and a wide variety of pipe bursting experience to give you the confidence you need to complete your challenging pipe replacement or repair projects safely, and meet your expectations of high quality results.
All our pipe bursting technologies are approved by local plumbing authorities and utilize the most modern techniques. Some of the benefits of pipe bursting, as a means of repairing or replacing old or damaged pipe include; being cost-effective, possible on nearly any size of pipe, with the addition of saving roads, your building, parking lot, and landscape from unnecessary excavation.
PIPE BURSTING SOLUTIONS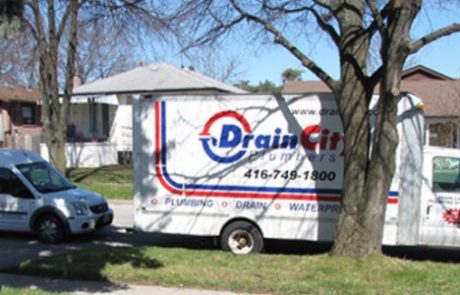 If you are interested in our pipe bursting solutions, give the Toronto plumbers at DrainCity a call at 416-749-1800, for an estimate and service, using the highest grade equipment available. We are willing to take on a job in any location in the Greater Toronto Area, and our plumbers will arrive on time in a service vehicle ready to work in a wide variety of unique environments.
If you are located in Burlington, East York, Etobicoke, Hamilton, Milton, Mississauga, Newmarket, North York, Oakville, Richmond Hill, Scarborough, Thornhill, Toronto, Woodbridge, York, or any other neighbouring town, we would be happy to work for you.
SERVICE AREAS:
Toronto, Aurora, Ajax, Burlington, Brampton, Bolton, East York, Etobicoke, Markham, Milton, Mississauga, Newmarket, North York, Oakville, Oshawa, Richmond Hill, Scarborough, Woodbridge, and surrounding areas.
PIPE BURSTING SPECIALITY:
Trenchless Sewer Pipe Repair
Trenchless Sewer Line Replacement
Trenchless Pipe Bursting
Pipe Bursting Method
Pipe Bursting Contractors
Pipe Bursting Sewer Replacement
Pipe Bursting Sewer Contractors
Burst Pipe Repair
Sewer Pipe Bursting
Pipe Bursting Technology
Pipe Burst
Pipe Bursting
Trenchless Technology
No-digging Technology
24 Hours Emergency For Any Toronto Plumbing Contractors Job
All of our plumbing service appointments are scheduled at your convenience. We provide 24 Hour emergency plumbing and basement waterproofing service 7 days a week, even on holidays. Our thoroughly stocked service vehicles are radio dispatched – they will make it to your neighborhood in record time, and do any plumbing job required.
No matter what your plumbing needs may be, you can count on our knowledgeable Toronto plumbers. No job is too big or too small for DrainCity Plumbing. Free estimates are available for all plumbing repair and installation projects as well as commercial installations in Toronto. We have the experience needed to deliver the highest quality service throughout our plumbing service areas in Toronto and the GTA. Our master plumbers assist with plumbing services for both residential and commercial customers and can always respond quickly in an emergency.
Our Toronto plumbing company is pleased to offer you a full range of residential and commercial plumbing services such as: