Catch Basin Installation Toronto
CATCH BASIN REPLACEMENT SERVICES TORONTO
Catch basins are typically built along a street's curb side, but many property owners would also like the additional drainage benefits of having a catch basin near their own home or yard. They serve as a collection reservoir for rainwater and funnel excess water into the sewer or storm drain system. When properly installed in a strategic location, catch basins help eliminate unpleasant odors, debris, and solve drainage problems after a rainstorm. Furthermore, they protect against garbage and organic waste from entering the storm drain, so it is important that an appropriate catch basin screen also is installed.
CATCH BASIN INSTALLATION OR REPLACEMENT SERVICE IN TORONTO
All this work should be performed by catch basin plumbers that are experienced, professional, and trained in performing such installations. Drain City have those skills and can provide you with a wide variety of catch basin options, suitable for any of your landscaping or flood prevention requirements. Catch basins can be made using concrete, steel, or any other material that will resist corrosion, and our licensed and certified plumbers will assess your unique landscape to provide you with advice on choosing the best catch basin and screen for your property.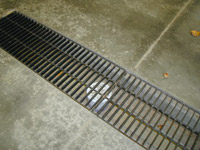 Drain City catch basin contractors are specialists at installing, cleaning, and repairing catch basins, so call us at 416-749-1800 or email info@draincity.com for a free catch basin installation estimate. Our plumbers will serve a wide range of areas from Toronto, Oakville, Mississauga, Woodbridge, and Etobicoke, to Scarborough, Pickering, Ajax, and Whitby. You can be assured that we will be on time, and give you the best service in the GTA.
CATCH BASIN INSTALLATION SPECIALTY:
Catch Basin Repair
Catch Basin Cleaning
Catch Basin Problems
Storm Sewer Cleaning Catch Basins
Toronto Catch Basin
GTA Catch Basins
Concrete Catch Basin
Catch Basin System
24 Hours Emergency For Any Toronto Plumbing Contractors Job
All of our plumbing service appointments are scheduled at your convenience. We provide 24 Hour emergency plumbing and basement waterproofing service 7 days a week, even on holidays. Our thoroughly stocked service vehicles are radio dispatched – they will make it to your neighborhood in record time, and do any plumbing job required.
No matter what your plumbing needs may be, you can count on our knowledgeable Toronto plumbers. No job is too big or too small for DrainCity Plumbing. Free estimates are available for all plumbing repair and installation projects as well as commercial installations in Toronto. We have the experience needed to deliver the highest quality service throughout our plumbing service areas in Toronto and the GTA. Our master plumbers assist with plumbing services for both residential and commercial customers and can always respond quickly in an emergency.
Our Toronto plumbing company is pleased to offer you a full range of residential and commercial plumbing services such as: