Sewer Cleanout Installation Service Toronto
DRAIN OR SEWER REPAIR SERVICE IN TORONTO
Older homes featuring sewer lines that are NOT composed of PVC or ABS hardly ever featured sewer cleanouts for maintenance. A cleanout is a piece of sewer line that juts up vertically in the home's yard from the main and extends above the surface of the ground. It ties in with the main sewer line with a smooth angle to allow a drain cleaning machine to be run, clearing any blockages. Without one of these cleanouts, the only access to the main sewer line is by pulling a toilet and cleaning the main from the bathroom. But what if none exist? DrainCity Plumbers can fix that!
If you wish to upgrade your home's current plumbing system by installing a cleanout, our professional technicians are prepared to perform the work with expert precision and attention to ensuring the highest quality sewer cleanout installation possible. To install a sewer cleanout, our plumbers first reach the main line by digging down to the sewer line and clearing away all the dirt.
To replace a cleanout outside or inside the basement, a small section of the old sewer line must first be removed. Then the new PVC cleanout fitting can be set in with fittings to adapt from PVC to cast iron and the vertical piece that will run above the ground's surface is installed to whatever height or depth is necessary. All parts are secured, and the hole is filled and graded smooth. Plumbing code now dictates that all new sewer lines be installed with two cleanouts.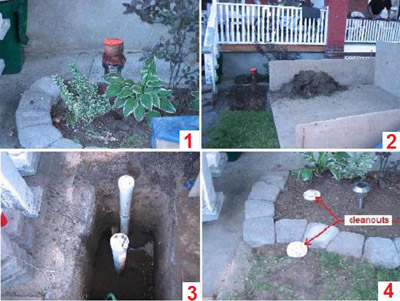 SEWER REPAIR SERVICE IN TORONTO
All our plumbers are seasoned pros, and have been doing sewer cleanout installations for years, so give us a call at 416-749-1800 at anytime that is convenient for you, to have a sewer cleanout installed at your property. The technicians at DrainCity are committed to serving you, regardless of your location in Toronto or the GTA. With our modern vehicles and plumbing equipment, we can get out to locations such as Aurora, Ajax, Brampton, Caledon, Concord, East York, Erin Mills, Etobicoke, Hamilton, Markham, Malton, Milton, Mississauga, Newmarket, North York, Oakville, Port Credit, Richmond Hill, Scarborough, Thornhill, and Vaughan for any sewer cleanout installation.
SEWER CLEANOUT SPECIALTY:
Sewer Cleanout Installation
Drain Cleanout Installation
Sewer Line Cleanout Replacement
Cleanout Repair
Cleanout Location
Sewer Line Clean Out
Clean Out Drain
Sewer Clean Out Plumbing
Sewer Clean Out Pipe
Sanitary Sewer Cleanout
Clean Out Clogged Drain
Clean Out Bathtub Drain
Main Drain Clean Out
24 Hours Emergency For Any Toronto Plumbing Contractors Job
All of our plumbing service appointments are scheduled at your convenience. We provide 24 Hour emergency plumbing and basement waterproofing service 7 days a week, even on holidays. Our thoroughly stocked service vehicles are radio dispatched – they will make it to your neighborhood in record time, and do any plumbing job required.
No matter what your plumbing needs may be, you can count on our knowledgeable Toronto plumbers. No job is too big or too small for DrainCity Plumbing. Free estimates are available for all plumbing repair and installation projects as well as commercial installations in Toronto. We have the experience needed to deliver the highest quality service throughout our plumbing service areas in Toronto and the GTA. Our master plumbers assist with plumbing services for both residential and commercial customers and can always respond quickly in an emergency.
Our Toronto plumbing company is pleased to offer you a full range of residential and commercial plumbing services such as: