Licensed Toronto Plumbing Contractors
24 Hour Emergency Plumbing Services
DrainCity Toronto plumbers are a licensed, bonded, and insured plumbing company, serving Toronto and the GTA. With more than 25 years of experience in commercial and residential plumbing, we offer high-quality plumbing services, from leaky fixtures to basement waterproofing in Toronto.
At DrainCity Plumbers in Toronto, return customers is the core of our business. Creating a lasting relationship of confidence and trust with a customer starts from the moment you call us to take care of your plumbing or drain repair services in Toronto.
Why Choose DrainCity Plumbers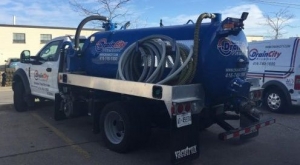 Our Toronto plumbing contractors are experienced in new and old plumbing systems and fixtures. With customer satisfaction as our top priority, we offer up to 25 years of warranty on our plumbing and waterproofing projects. We always respect you and your property, leaving your home in a tidy and spotless condition.
We never use freelance plumbers (who get paid more if they sell you more). Our guys are full-time employees who have more than 5 years experience when starting to work for us, and also get thorough "in-house" training. You can always rest at ease that a qualified professional is working on your home or business when you call DrainCity.
Drain City provides a variety of Toronto plumber services for your home and business. Please contact us today to discuss your options and our plumbing services with a licensed plumber in Toronto.
We provide an up-front flat rate to avoid any surprises at the end. We provide only the services you need when you need it. We send superb servicemen, not salesmen.
24 Hours Emergency For Any Toronto Plumbing Contractors Job
All of our plumbing service appointments are scheduled at your convenience. We provide 24 Hour emergency plumbing and basement waterproofing service 7 days a week, even on holidays. Our thoroughly stocked service vehicles are radio dispatched – they will make it to your neighborhood in record time, and do any plumbing job required.
No matter what your plumbing needs may be, you can count on our knowledgeable Toronto plumbers. No job is too big or too small for DrainCity Plumbing. Free estimates are available for all plumbing repair and installation projects as well as commercial installations in Toronto. We have the experience needed to deliver the highest quality service throughout our plumbing service areas in Toronto and the GTA. Our master plumbers assist with plumbing services for both residential and commercial customers and can always respond quickly in an emergency.
Our Toronto plumbing company is pleased to offer you a full range of residential and commercial plumbing services such as: