Faucet Installation In Toronto / GTA
FAUCET REPAIR & REPLACEMENT IN TORONTO
DrainCity Inc. Toronto Plumbers are licensed experts, and are all very experienced in installing, replacing or repairing faucets with care and precision. We'll replace your old, wornout faucets with any new model, providing you with drip free reliable plumbing at your property. And don't worry – we work with every brand name imaginable, whether it be for your kitchen, bathroom, bathtub or shower, we deal with all kinds of faucets and all rooms that require them!

DrainCity professional plumbers will perform the work as quickly and professionally as possible. Before we get started, we'll assess the work and provide you with up front pricing. We pride ourselves on having very competitive, affordable rates, and your satisfaction is guaranteed. When you choose our plumbing experts you'll have your faucet installed with complete professionalism and our labour warranty backs that up, so you have peace of mind when we're finished the job.
FAUCET REPAIR SERVICE IN TORONTO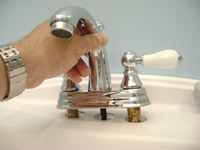 Call DrainCity Inc. Toronto Plumbers today at 416-749-1800 for a booking to have the best value, and highest quality faucet installation Toronto done in your residence or business. We'll travel to your location within any borough of Toronto, including; Etobicoke, York, East York, North York and Scarborough not to mention any other location around the GTA, arriving on time and getting the job done right. We can get out to your home at a time that works for you, even on evenings or weekends, and our skilled technicians will have your plumbing in excellent working order, at a price that beats all our competition.
OUR FAUCET INSTALLATION HELP:
Faucet Installation
Faucet Repair
Faucet Replacement
Sink Faucet Installation
Bathroom Faucet Replacement
Install Bathroom Faucet
Replace Bathroom Faucet
Bathtub Faucet Installation
Bathroom Tub Faucets
Bathroom Faucet Drain
Bathroom Faucets
Moen Bathroom Faucet Installation
Bathroom Shower Faucets
Bathroom Sink Faucet Installation
Replace Bathroom Sink Faucet
24 Hours Emergency For Any Toronto Plumbing Contractors Job
All of our plumbing service appointments are scheduled at your convenience. We provide 24 Hour emergency plumbing and basement waterproofing service 7 days a week, even on holidays. Our thoroughly stocked service vehicles are radio dispatched – they will make it to your neighborhood in record time, and do any plumbing job required.
No matter what your plumbing needs may be, you can count on our knowledgeable Toronto plumbers. No job is too big or too small for DrainCity Plumbing. Free estimates are available for all plumbing repair and installation projects as well as commercial installations in Toronto. We have the experience needed to deliver the highest quality service throughout our plumbing service areas in Toronto and the GTA. Our master plumbers assist with plumbing services for both residential and commercial customers and can always respond quickly in an emergency.
Our Toronto plumbing company is pleased to offer you a full range of residential and commercial plumbing services such as: