Basement Exterior Waterproofing Toronto
Exterior Basement Waterproofing Toronto
If your crawl space or basement is flooding or damp, chances are the exterior membrane or footer drain has failed. Basement exterior waterproofing is an excellent means to correct these problems. Poorly installed or collapsed french drains and downspouts can also cause issues that would require outdoor basement waterproofing. Our aim at Drain City is to provide the very best solution for your home that matches your budget and long-term objectives. Sometimes interior waterproofing is your ideal response, but we feel it is only one answer. We would like to make sure your home is safe for many years to come.
WHY YOU SHOULD INVEST IN EXTERIOR WATERPROOFING TORONTO
True waterproofing is performed outside of the house. Exterior basement waterproofing involves excavating the dire in the cinder block or concrete walls to repair or replace damaged membranes and footer drains. Exterior waterproofing isn't quite as popular as interior waterproofing for a couple of reasons. One challenge is after years of root growth, which can make it harder to perform exterior waterproofing. Sidewalks and driveways also hinder the work. HVAC systems found outside the home, decks, and sunrooms can also pose difficulties when waterproofing the outside of your house. For these reasons and more, some feel interior basement waterproofing is a much better and more economical solution.
BENEFITS OF EXTERIOR WATERPROOFING IN TORONTO
Interior basement waterproofing has difficulties as well. One benefit of exterior waterproofing is that we have the ability to properly waterproof the basement from the outside without losing space inside.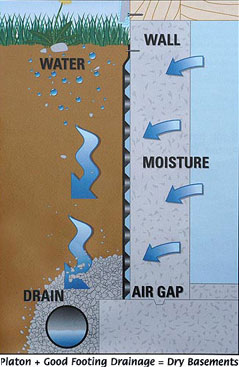 At Drain City, we offer free exterior waterproofing consultations. We are also experts in sump pump installations, crawl space and basement waterproofing, downspout extensions, soil grading, gutters installation and other waterproofing services that are sure to keep your basement dry.
BASEMENT WATERPROOFING SERVICES:
foundation crack repair
basement waterproofing contractors
weeping tile installation
foundation waterproofing
window well installation
leaky basement
24 Hours Emergency For Any Toronto Plumbing Contractors Job
All of our plumbing service appointments are scheduled at your convenience. We provide 24 Hour emergency plumbing and basement waterproofing service 7 days a week, even on holidays. Our thoroughly stocked service vehicles are radio dispatched – they will make it to your neighborhood in record time, and do any plumbing job required.
No matter what your plumbing needs may be, you can count on our knowledgeable Toronto plumbers. No job is too big or too small for DrainCity Plumbing. Free estimates are available for all plumbing repair and installation projects as well as commercial installations in Toronto. We have the experience needed to deliver the highest quality service throughout our plumbing service areas in Toronto and the GTA. Our master plumbers assist with plumbing services for both residential and commercial customers and can always respond quickly in an emergency.
Our Toronto plumbing company is pleased to offer you a full range of residential and commercial plumbing services such as: