Toronto Emergency Plumbing
&

Drain Cleaning Services
DrainCity Toronto plumbers are a licensed, bonded, and insured plumbing company, serving Toronto and the GTA. With more than 25 years of experience in commercial and residential plumbing, we offer high-quality plumbing services, from leaky fixtures to basement waterproofing in Toronto.
At DrainCity Plumbers in Toronto, return customers is the core of our business. Creating a lasting relationship of confidence and trust with a customer starts from the moment you call us to take care of your plumbing or drain repair services in Toronto.
Toronto Emergency Plumbing Services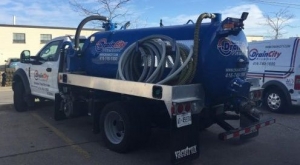 24 hour emergency plumbers Toronto are available for all of your plumbing emergencies day or night. We service all of Toronto and the GTA and we can be reached at 1-888-701-2111. At DrainCity Plumbing we offer a full range of residential and commercial plumbing services. We work 24 hours a day 7 days a week like true emergency plumbers should. Some of the plumbing repairs we do are broken pipes, replace toilet bowls, drain clogs, hot water heater repairs, new installs, leaks behind the walls, replace busted valves and much more.
While some plumbing emergencies can be solved with some DIY and elbow grease, in many cases a plumbing problem need a professional emergency plumber. In Toronto and surrounding areas, A Alert Drain is ready to help you deal with any plumbing emergency, and we take great pride in being available 24/7 for anyone who encounters unexpected problems. When you find yourself in the middle of a plumbing emergency, be sure to contact us as soon as possible, we'll have a plumber to your location quickly to locate and take care of the problem.
24 Hours Emergency For Any Toronto Plumbing Contractors Job
All of our plumbing service appointments are scheduled at your convenience. We provide 24 Hour emergency plumbing and basement waterproofing service 7 days a week, even on holidays. Our thoroughly stocked service vehicles are radio dispatched – they will make it to your neighborhood in record time, and do any plumbing job required.
No matter what your plumbing needs may be, you can count on our knowledgeable Toronto plumbers. No job is too big or too small for DrainCity Plumbing. Free estimates are available for all plumbing repair and installation projects as well as commercial installations in Toronto. We have the experience needed to deliver the highest quality service throughout our plumbing service areas in Toronto and the GTA. Our master plumbers assist with plumbing services for both residential and commercial customers and can always respond quickly in an emergency.
Our Toronto plumbing company is pleased to offer you a full range of residential and commercial plumbing services such as: