Drain Cleaning Services In Toronto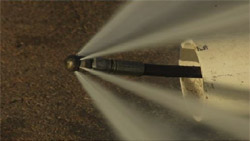 Have you ever flushed your toilet and had it overflow onto the bathroom floor, or taken a shower in a foot of standing water, or worse yet, have what you flush down the toilet come up through your kitchen sink? If you said yes to any of these, then you are not alone. These types of problems are all associated with a clogged drain line, and drain cleaning is needed. Using the most up-to-date equipment in the plumbing industry, the Toronto plumbers at Drain City can unclog toilets, main sewers (sewer pipes), kitchen sinks, bathtubs, showers, laundry lines, floor drains, downspouts, area drains, and any other pipe or plumbing fixture drains.
We not only get results, but also give you answers as to why your drain clogged in the first place, and how to prevent cleaning drains from happening in the future. Our highly knowledgeable and experienced Toronto plumbers will share the CCTV video with you, the homeowner, and present options for sewer line repairs or replacement if necessary.
CLEANING DRAINS IT'S OUR JOB
If you are looking for an experienced plumber Toronto to help solve any drain problems, or any other kind of plumbing problems, don't hesitate to call Drain City at 416-749-1800, to get the top Toronto plumbers in town working for you. We guarantee to come down to your place and get your drains cleaned, with the utmost professionalism and skill, whether your location is Downtown Toronto, Etobicoke, North York, Scarborough or neighbouring areas such as Hamilton, Oakville, Peel Region, Pickering, Oshawa, Richmond Hill, or York Region.
24 Hours Emergency For Any Toronto Plumbing Contractors Job
All of our plumbing service appointments are scheduled at your convenience. We provide 24 Hour emergency plumbing and basement waterproofing service 7 days a week, even on holidays. Our thoroughly stocked service vehicles are radio dispatched – they will make it to your neighborhood in record time, and do any plumbing job required.
No matter what your plumbing needs may be, you can count on our knowledgeable Toronto plumbers. No job is too big or too small for DrainCity Plumbing. Free estimates are available for all plumbing repair and installation projects as well as commercial installations in Toronto. We have the experience needed to deliver the highest quality service throughout our plumbing service areas in Toronto and the GTA. Our master plumbers assist with plumbing services for both residential and commercial customers and can always respond quickly in an emergency.
Our Toronto plumbing company is pleased to offer you a full range of residential and commercial plumbing services such as: