Clogged Drain Repair Services Toronto
CLOGGED DRAIN REPAIR SERVICE TORONTO
Is your drain always clogged, and you can't seem to do anything to fix clogged drain or don't know how to unclog it?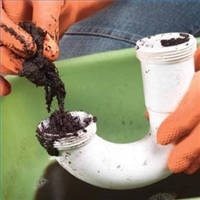 At Drain City, we can resolve these frustrating situations professionally, at prices that beat our competition by at least 10%! Our clogged drain repair contractors offer clogged drain repair services that will enable you to resume regular use of your plumbing. We always use environmentally friendly techniques to fix clogged drains, as opposed to traditional fixes such as pouring potent and dangerous chemicals down the drain, just to dissolve the problem away. The issue is that these chemical solutions are not only harmful to the environment, but may also contain acid or lye, either of which can be damaging to your PVC pipes system, wastewater systems, and health.
Contact clogged drain repair contractors at Drain City to ensure that your drains resume functioning properly as soon as you notice a blockage in your home, or you need to unclog drains quickly. Regardless of your unique plumbing and drain cleaning needs, we are always willing to provide you with quality service while maintaining low prices. Feel free to contact us at 416-749-1800 for the most reliable plumbers in the city. Even if you're not in Toronto, we'll come to you; Drain City provides outstanding plumbing and waterproofing services to every Greater Toronto Area resident!
CLOGGED DRAIN SERVICES:
Clogged Toilet Drain
Clogged Bathtub Drain
Clogged Kitchen Sink Drain
Clogged Shower Drain
Clogged Floor Drain
Clogged Laundry Drain
Unclog Sink
Unclog Bathtub
Unclog Toilet
Unclog Drain
Unclog Sewer Line
Main Drain Clog
Drain Pipe Clog
Sink Drain Clog
Sewer Drain Clog
24 Hours Emergency For Any Toronto Plumbing Contractors Job
All of our plumbing service appointments are scheduled at your convenience. We provide 24 Hour emergency plumbing and basement waterproofing service 7 days a week, even on holidays. Our thoroughly stocked service vehicles are radio dispatched – they will make it to your neighborhood in record time, and do any plumbing job required.
No matter what your plumbing needs may be, you can count on our knowledgeable Toronto plumbers. No job is too big or too small for DrainCity Plumbing. Free estimates are available for all plumbing repair and installation projects as well as commercial installations in Toronto. We have the experience needed to deliver the highest quality service throughout our plumbing service areas in Toronto and the GTA. Our master plumbers assist with plumbing services for both residential and commercial customers and can always respond quickly in an emergency.
Our Toronto plumbing company is pleased to offer you a full range of residential and commercial plumbing services such as: