Drain Snaking Services In Toronto
Unclogging Drain By Snaking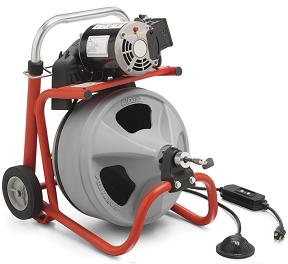 DrainCity Toronto plumbers offer expert residential, commercial, and industrial drain snaking service to unclog blocked drain pipes. Our equipment is very modern and powerful, therefore we can deal with even the most difficult blockages. What drain snakes do to remove clogs from your drain may seem a little odd, but their function is simple to understand. When the pipes are clogged, the drain snake may stop at the clog or be forced past it. Turning the snake inside the drain tangles it into the clogged material and allows water to pass through the drain around it.
This action slowly pushes the clog out of the drain, thereby clearing your pipes and resuming normal water flow. Drain snakes may be able to pull out clumps of hair, or break up a batch of toilet paper in a bathroom drain. You can trust the plumbing services of DrainCity to snake drain, quickly and efficiently, clearing your property's pipes for problem free usage.
DRAIN SNAKING SERVICE IN TORONTO
Call DrainCity at 416-749-1800 anytime to schedule one of our friendly and reliable Toronto plumbers to come by at a time and day that works best for you, and you will have all your drains running like new in no time. With our modern vehicles and drain snaking equipment, we can service locations such as Aurora, Ajax, Brampton, Caledon, Concord, East York, Erin Mills, Etobicoke, Hamilton, Markham, Malton, Milton, Mississauga, Newmarket, North York, Oakville, Port Credit, Richmond Hill, Scarborough, Thornhill, and Vaughan. We provide snaking a toilet drain, snaking a shower drain, snaking a kitchen drain, snaking a bathtub drain, snaking a laundry drain, snaking a drain pipe, snaking a main drain.
24 Hours Emergency For Any Toronto Plumbing Contractors Job
All of our plumbing service appointments are scheduled at your convenience. We provide 24 Hour emergency plumbing and basement waterproofing service 7 days a week, even on holidays. Our thoroughly stocked service vehicles are radio dispatched – they will make it to your neighborhood in record time, and do any plumbing job required.
No matter what your plumbing needs may be, you can count on our knowledgeable Toronto plumbers. No job is too big or too small for DrainCity Plumbing. Free estimates are available for all plumbing repair and installation projects as well as commercial installations in Toronto. We have the experience needed to deliver the highest quality service throughout our plumbing service areas in Toronto and the GTA. Our master plumbers assist with plumbing services for both residential and commercial customers and can always respond quickly in an emergency.
Our Toronto plumbing company is pleased to offer you a full range of residential and commercial plumbing services such as: