Drain Jetting Services Toronto
TORONTO DRAIN JETTING CLEANING SERVICES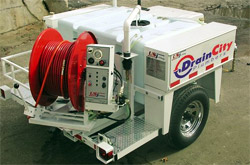 Drain City provides exceptional drain jetting services by using high-pressure water jetting technology, for removing sediment, grease, and waste – thoroughly cleaning the inside of your drains and sewer pipes in the ground. The best plumbers in Toronto should use only the best equipment available, and you'll receive quality drain jetting services done by our knowledgeable and experienced Toronto plumbers.
Our drain jetting units are designed to provide benefits such as, high-pressure operation at low water volume, operating in smaller more confined environments, and providing a high-pressure water jetting solution that is the most cost effective, while proficiently cleaning the drain, sewer, and pipe lines in a wide variety of situations.
The water jet drain cleaning is highly practical for cleaning: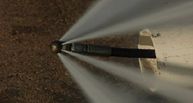 Sewer lines & systems
Grease tanks & lines
high-pressure water jetCatch basin lines
Storm systems
Stack lines
Pump chambers & lines
Rain Leaders
French or perimeter drains
We also have specialized equipment with small jets used to clean kitchen lines, floor drains and small main lines inside your house, so there's never any overflow to clean up. We are fully licensed and certified to carry out drain and sewer jetting, and our high-pressure water jetting units can eliminate deposits from drains and pipes, returning water pressure to normal levels.
Call Drain City today at 416-749-1800 for a free drain jetting estimate to have the best value, and highest quality high-pressure water jetting done on your property's piping system. We can get out to your home at a time that works for you, even on evenings or weekends, and our skilled Toronto Plumbers will have your plumbing in excellent working order, at a price that beats our competition by at least 10%.
24 Hours Emergency For Any Toronto Plumbing Contractors Job
All of our plumbing service appointments are scheduled at your convenience. We provide 24 Hour emergency plumbing and basement waterproofing service 7 days a week, even on holidays. Our thoroughly stocked service vehicles are radio dispatched – they will make it to your neighborhood in record time, and do any plumbing job required.
No matter what your plumbing needs may be, you can count on our knowledgeable Toronto plumbers. No job is too big or too small for DrainCity Plumbing. Free estimates are available for all plumbing repair and installation projects as well as commercial installations in Toronto. We have the experience needed to deliver the highest quality service throughout our plumbing service areas in Toronto and the GTA. Our master plumbers assist with plumbing services for both residential and commercial customers and can always respond quickly in an emergency.
Our Toronto plumbing company is pleased to offer you a full range of residential and commercial plumbing services such as: