Sewer Backwater Valve Toronto
In certain situations, flooding can cause wastewater from sewer lines to back up into houses through drain pipes. This not only can cause damage that is difficult and costly to repair, but also presents some serious health concerns for you and your family. The best way to protect against sewage backups is to install a sewer backwater valve Toronto, which is designed to block backflow of sewage into the home.

Watch us on CTV NEWS!
http://www.ctvnews.ca/video?playlistId=1.1614502
SEWER BACKFLOW PREVENTION SERVICE
At Drain City, our backwater valve contractors are licensed and qualified to provide this service. We will install the backwater valve Toronto, prepare the permit for installation, and provide you with all information for a sewer backwater valve installation subsidy, that you as the homeowner can take advantage of. With the Basement Flooding Protection Subsidy Program in Toronto and other municipalities, owners of residential homes can receive a large subsidy on every property taking flood protection measures, such as installing or replacing backwater valves, sump pumps, and other equipment to prevent water damage.
Drain City backwater valve contractors are specialists at installing sewer backwater valves so call us at 416-749-1800 or email info@draincity.com for a free backwater valve estimate. You can be assured that we will be on time and give you the best service in the GTA. We can get out to your home at a time that works for you, whether it be days, evenings, or weekends, and our skilled backwater valve plumbers will have your sewer backwater valves in top condition, at a price that beats our competition by at least 10%.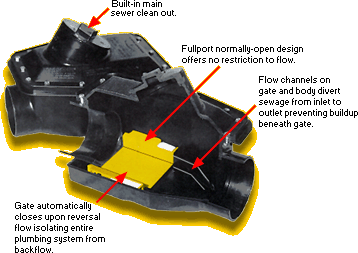 BASEMENT FLOODING PROTECTION SUBSIDY PROGRAM
Backwater valve consultation with a plumber licensed by the City of Toronto, homeowners, may determine that a backwater valve on the sanitary sewage and storm water connection could provide sufficiently for the basement flooding protection subsidy program. Available subsidy = 80% of the invoiced cost up to a maximum of $1,250 including eligible labour, materials, permits, and taxes.
Download the basement flooding protection subsidy program application below, provided by the City of Toronto.
https://www1.toronto.ca/City%20Of%20Toronto/Toronto%20Water/Files/pdf/B/Basement-Flooding-Protection-Subsidy-form.pdf
Get Your Detailed Quote

SEWER BACKFLOW PREVENTION SPECIALITY:
Sewer Backwater Valve Installation Cost
Drain Backwater Valve Replacement
Sewer Line Backwater Preventer
Drain Line Backwater Valve
Sewer Back Water Valve
Drain Backup Valve
Sewer Backup Valve
Sewage Backflow Preventer
Storm Water Backflow Prevention
Backwater Check Valve
Backwater Prevention Valve
Floor Drain Backwater Valve
Drain Backflow Preventer
Main Drain Valve
Main Line Backwater Valve
Reflux Valve Sewer
24 Hours Emergency For Any Toronto Plumbing Contractors Job
All of our plumbing service appointments are scheduled at your convenience. We provide 24 Hour emergency plumbing and basement waterproofing service 7 days a week, even on holidays. Our thoroughly stocked service vehicles are radio dispatched – they will make it to your neighborhood in record time, and do any plumbing job required.
No matter what your plumbing needs may be, you can count on our knowledgeable Toronto plumbers. No job is too big or too small for DrainCity Plumbing. Free estimates are available for all plumbing repair and installation projects as well as commercial installations in Toronto. We have the experience needed to deliver the highest quality service throughout our plumbing service areas in Toronto and the GTA. Our master plumbers assist with plumbing services for both residential and commercial customers and can always respond quickly in an emergency.
Our Toronto plumbing company is pleased to offer you a full range of residential and commercial plumbing services such as: